21 August 2017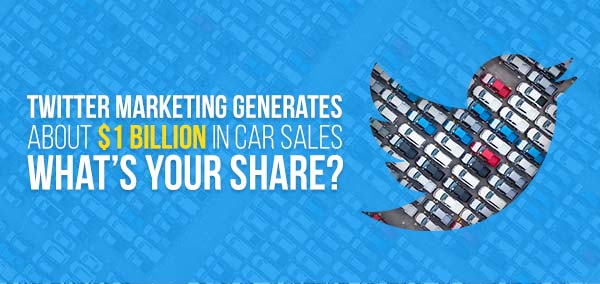 For quite some time, Twitter has been used not only for personal tweets, but also as a marketing tool. Way back in 2014 with monthly users of 288 million, Twitter marketing has driven around $716 million in car sales. With more than 328 million monthly users in 2017, Twitter is definitely a powerful social platform for promoting your car dealership.
Boost your Twitter marketing with these simple, yet effective tips.
01.Know the Power of Hashtags
Hashtags are the current rage and they are being used and followed everywhere. Research your automotive hashtags, and use as well as follow them on Twitter and other social platforms. For instance, in the automotive industry, #dreamcar is a powerful trending hashtag.
Also, hashtags help in planning your Twitter marketing strategies. Twitter campaigns and tweets can be created around these hashtags, which in turn will drive significantly more traffic to your auto dealership website.
02.Know Your Advertising Platform
We agree that both offline and online advertising are important in the automotive industry. But, potential customers can engage and gain clarity on their purchasing decision more easily through tweets and retweets.
If you are advertizing on TV, there is no interaction between the car dealership and customers, which can lead to a smaller gain. On the other hand Twitter marketing is a two-way street.
03.Know & Listen to Your Audience
Listen to prospective car buyers on Twitter, to know their expectations. If your car dealership can fulfill these requirements or if you have something even better, then engage in a conversation with them.
Most importantly, Twitter helps auto dealers to influence potential customers quite early in their buying phase. Making good use of Twitter will certainly boost your showroom visits.
04.Know & Achieve Your Goals
Any kind of marketing strategy should have a goal and the team has to work towards achieving it. Here are a few achievable and effective Twitter goals for your car dealership:
Number of landing page visits in a month

Number of test drive requests

Number of visits to the service page

Number of new blog visits in a year
These goals require a bit of thinking regarding how this needs to be done. So, the achievable number is up to you to decide depending on your social media team.
05.Know & Excel in Your Objectives
Supportive objectives help to achieve your Twitter goals, but requires some groundwork.
Before working towards your objective, start by posting great tweets with the right hashtags to engage with more prospects.
Check out a few achievable Twitter objectives for your car dealership:
Make sure you engage with a certain number of new prospects in a month by tweeting often

Improve your Twitter impressions in a month by using the right hashtags

Include images in tweets to boost engagement

Focus on vehicle trends and technology in certain tweets
For more information on Twitter marketing for your car dealership, Click Here.