16 August 2017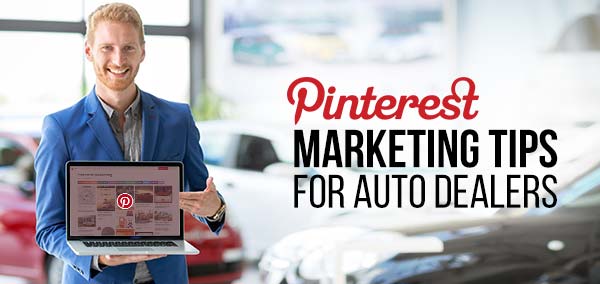 Pinterest is one of the leading image-related social networking sites that helps auto dealers build their brands and online reputation, market their products, and improve sales.
Pinterest marketing is steadily gaining popularity in car dealership marketing, and the reasons are not hard to guess. Cars are an inherently visual, touch-and-feel product where a good picture is worth a thousand words, and Pinterest makes it easier than ever before to collate, publish, share, and manage images.
Here are a few interesting ideas to kick start your Pinterest marketing.
Educate Your Visitors
Your pins should educate viewers and provide useful information. Only then can you grab the attention of intended customers. For example, if you want to promote your auto dealership's new car, you can pin an image and link it to its specifications' video.
This interesting information will keep visitors engaged and over time, helps in building an affinity with your dealership. When users share your images, your branding and marketing messages are shared as well.
Drive More Traffic to Your Car Dealership Website
As discussed earlier, links can be incorporated in your pins to your auto dealer website. Google recognizes and indexes the text from your pins and boards. This improves your auto dealer website SEO and pushes it further up in search results.
If some other users re-pin your pins, it will improve your network, exposure and, in turn, potential traffic. You can also follow automotive influencers who can bring in traffic through their followers.
Creative Pins & Boards Attract More Eyeballs
How creative can you get with your pins and boards? The more your creativity, the higher the views and clicks to your auto dealer website! For instance, if you are talking about a particular car, make sure you weave a story around it.
This way, visitors will find your pins and boards more attractive. Try to establish your own distinct Pinterest style, with a unique way and tone for your pins and the way you interact with your clients.
Make Connection with Other Pinners
Pinterest is a social networking site, and needless to say, participation and interaction play a vital role. It is not a good practice to always strongly stress on your brand and post hard-selling pins continuously. This may be flagged as spamming because the links are being continuously redirected to your auto dealer website.
To avoid this, you can occasionally re-pin others' pins related to cars and thereby, build new connections.
Host Exciting Events
Think of out-of-the box activities like hosting interactive events, conducting contests, arranging community sessions, and much more. For each of these, you can create pins which don't appear as spam.
For instance, if you are arranging a community session, create pins related to the speakers, topics that will be discussed, event location, sponsors, etc.
Measure Your Success
Your Pinterest marketing effort shouldn't run on autopilot. Measure your success and returns on investment (ROI). There are several tools like tailwind.com, Pinterest Web Analytics, etc to help you do this. These tools will analyze pins, repins, visits to your website from Pinterest, the number of people who have seen your pins, and more.
For more information on Pinterest marketing,

Contact Us

.