02 November 2017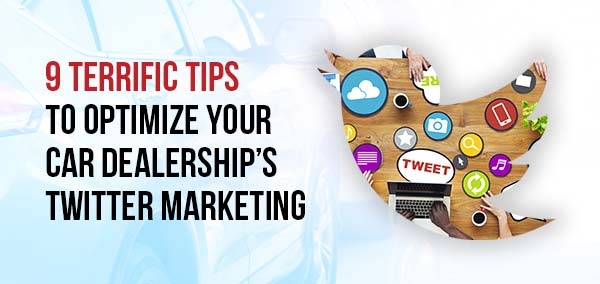 With more than 328 million monthly users, Twitter is an efficient way to reach your prospects in real-time and promote your car dealership. But unless you get it right, results will be hard to come by.
Here are the nine effective tips to optimize your Twitter marketing for more car sales.
Twitter Marketing Tip 1: Easy-to-remember Twitter Handles
Your Twitter handle should be relevant, simple, and should make sense. The most advisable handle is your dealership name, or a combination of your car brand and location. If it's too lengthy then you must be creative in finalizing your Twitter handle.
Twitter Marketing Tip 2: Take Care of the Bio
You are allowed only 160 characters for crafting your bio. Make it compelling, with relevant hashtags and keywords. Your dealership's Twitter bio should invite prospects to click on your car dealer website link, seeking more information.
Twitter Marketing Tip 3: Include Relevant Images
Make use of the visibility of your profile and header images to market your dealership. Consider using your dealership's logo as the profile image. Rework your latest promotional banner and use it as the header image.
Twitter Marketing Tip 4: Don't Forget Your Website URL
Think twice before redirecting your followers to your website homepage. Your followers are likely to be more interested in what's happening now, which is why it may work better if you redirect them to your promotional offers page, blog, or newsroom.
If you are running Twitter specific marketing campaigns, then go the extra mile and create a Twitter specific landing page for each campaign.
Twitter Marketing Tip 5: Location Matters as Well
Being a car dealership, it is important to be a part of your local community. Let them know where you are. Don't forget to add your location.
Adding the location helps in following other local businesses in your niche and in turn, they are likely to follow you.
Twitter Marketing Tip 6: Make the Best of Hashtags
Well crafted hashtags relevant to your car brands and location will result in 2x more engagement. It is also essential to include one or two hashtags in a single tweet.
Make sure to learn about using hashtags before actually using them in tweets, since there are chances of hashtags backfiring on your brand.
Twitter Marketing Tip 7: Follow Automotive Influencers
Twitter is not only about tweets but also about followers and whom to follow.
Follow relevant influencers in the automotive industry, build good relationships, and request them to retweet your content. This will help a lot in promoting your local car dealership.
Twitter Marketing Tip 8: Engage With Your Followers
Your followers expect some value from following you, which is why they are your followers. Be active on Twitter, create informative blogs, and post the links regularly for your followers.
You can also keep your followers engaged by questioning, answering, and replying to their tweets. Always remember to add a photograph or video with your tweets.
Twitter Marketing Tip 9: Try the Pinned Tweet Feature
The most important tweet of your car dealership can be pinned, which always appears at the top of your profile. This is a quite effective tactic that is mostly ignored by car dealerships. The pinned tweet can be strategically designed with a great image, targeted keyword, and a call-to-action driving traffic to your car dealer website.
For more useful tips to optimize your car dealership's Twitter profile, Contact Us.