26 September 2017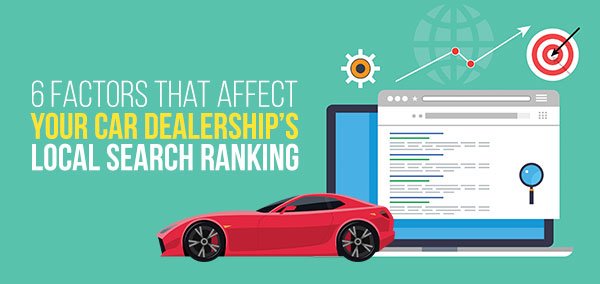 For a car dealership, it is important to be visible on major search engines, local directories and apps in local searches. Local SEO (search engine optimization) plays a major role in boosting your local search ranking.
With Google's latest changes in local search results, local SEO is greatly stressed upon. It becomes easy to take the fight to the competition if you know the factors that are affecting your dealership's local search ranking.
Here are 6 factors that count the most.
Factor 1: Link Building Quality
Backlinks from popular local websites related to car dealerships, like aftermarket accessories, help in improving local search rankings. Plus once you have those backlinks, you are on the radar of those customers too, which opens a window of opportunity to get them to visit your car dealer website.
Link building will increase search rankings only when the backlinks are from authoritative websites.
Factor 2: On-page SEO Plays a Major Role
Apart from off-page SEO activities like link building, on-page SEO also affects local search ranking. If your car dealer website has less than optimal keyword density, then it needs to be addressed immediately.
The URL, meta titles, alt tags, H1, and H2 of your car dealer website must be optimized for your local search engines. To customize your website, you can take help from experts who excel in SEO and marketing.
Factor 3: Consistency in NAP
Your car dealer website's name, address, and phone number (NAP) must be consistent everywhere. It can be on every page of your website, local online directories, third-party directories, or advertising medium.
We know that managing NAPs that are uploaded by consumers is challenging. But, there are tools that can help auto dealers from losing out on sales. Inconsistency in NAP not only affects footfalls, but also local search rankings.
Factor 4: Google My Business Account
For any business, a Google My Business account is highly recommended, since it is a huge local search ranking factor.
Google can identify your car dealer website by analyzing your Google My Business page. So, optimize the page with photos, descriptions, contact information and business details.
Factor 5: Google Reviews
Most prospective car buyers look for reviews of both the dealership and the vehicles before making up their minds. Google reviews play a significant role in the process, since it is a significant part of local search results.
Seek help from your marketing team, request reviews from your potential clients and post it on your car dealer website.
Factor 6: Authority of Unstructured Citations
Citations are a noteworthy factor that affects local search results. A local unstructured citation is a mention of your dealership anywhere on the web that provides your NAP, postal code, and website URL; for example: blogs, Wikipedia, magazines and newspaper platforms.
Citations from authoritative local websites can boost your ranking in local search result.
For more information on factors affecting your local search rankings, Click Here.