14 September 2017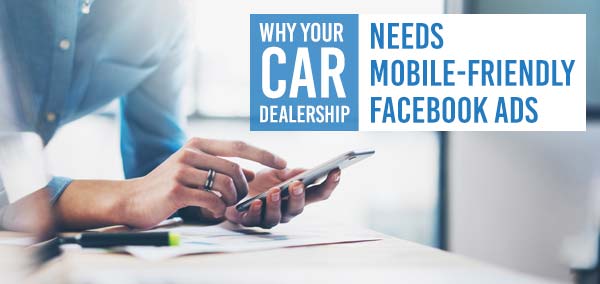 Up to 94 percent of your prospective customers access email, Facebook, Instagram, and Twitter on their mobile devices. It's high time to adopt a mobile-first approach to marketing, if you aren't already doing so.
With more than 650 million active Facebook users on mobiles, Facebook Ads are a sure-fire way to connect with prospects. But how can Facebook Ads be made mobile-friendly?
Here are a few simple yet effective tips.
Tip 1: Serve the Right FB mode to Your Audience
There are many options on Facebook for displaying your ads, including mobiles only, desktops only, and mobiles and desktops. You can choose 'mobile-only' ads for sponsored ads alone, which gets displayed exclusively on your followers' mobile newsfeed.
If you are not sure which option works the best, then try A/B testing and check which one works better.
Tip 2: Fire up Mobile-friendly Promotions
If you choose to promote your Facebook page using email, it's a good idea to create mobile viewable promotions.
The subject line will have to be short and catchy. Add a direct call-to-action button, since mobile users tend to get distracted quickly. If needed, you can include offers that are only for mobile users.
Tip 3: Get Mobile-Compatible Facebook Apps
One of the best ways to attract more consumers is by conducting contests. If you are using a third-party website to host contests, make sure that it is mobile-friendly as well. Smart URLs help in running the Facebook app both on desktops and mobiles seamlessly.
You can also use mobile-scannable QR codes during offline and online promotions that can be scanned on mobiles. This will redirect your customers to your auto dealership's Facebook page. Let them know that you are providing offers and coupons when they visit your page.
Tip 4: Reboot Your Creativity
Your Facebook Ads will appear with other newsfeeds and organic content. Always make your ads stand out with bold, and exciting imagery, and textual content to match.
If your Facebook Ads are driving traffic to your auto dealer website, then a responsive car dealer website is highly recommended.
Tip 5: Test Everything
While creating mobile-friendly Facebook Ads are important, testing them is equally crucial. The reason for thorough testing is the inconsistency of Facebook's mobile experience. The best solution for this is to test the ads on a few different devices.
You need to test the following:
§Image loading time
§Proper working of links
§Length of the ad
§Time taken to reach the call-to-action button, etc.
For more information on creating mobile-friendly Facebook Ads, Click Here