20 August 2018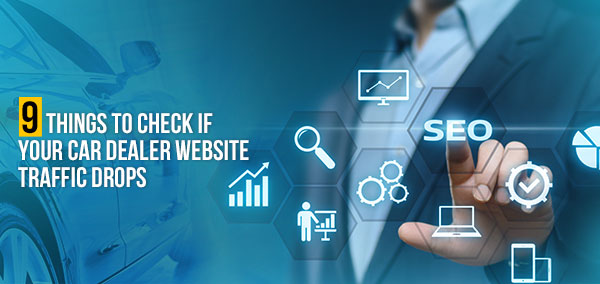 A drop in your car dealer website traffic will definitely trigger panic. The good news is, your auto dealership can still recover lost traffic if you act in a timely manner.
Here are some things to check if you see a sudden drop in your car dealer website traffic.
01. Critical Changes to Your Car Dealer Website
If you have made any recent changes on your auto dealer website in order to address design, content, or crawlability issues, then you may see a drop in the website traffic.
Rolling back these changes should result in better website visibility.
02. Google Algorithm Updates
Google keeps updating their algorithm to deliver better search results. It is quite possible that the recent change in your auto dealer website traffic may be triggered by an algorithm change.
In that case, recovery may not be easy, but there is no need to panic.. You need to audit your website and look for the issues which made Google drop your search rankings. An immediate SEO audit is highly recommended.
03. Search for Google Penalty
If Google observes any unethical Black Hat practices on your auto dealer website, then it can penalize your website, and it may prevent your website from appearing on search engine results pages (SERPs).
You need to roll-back all Black Hat practices and then advice Google for a re-evaluation.
04. Recheck Your Car Dealer Website Content Quality
Content quality is one of the factors that can result in a sudden drop in your website traffic.
Google updates recognize low-quality content with increasing sophistication, and will drop low-quality content from top search results.
05. Look for Missing Backlinks
Sometimes, there are chances of losing high-quality back- links, which greatly contributes to the loss of website traffic.
The loss of inbound links tells Google that your site has eroded its authority. The way out is to get more high-quality inbound links.
06. Check for Site Migration Issues
It is pretty obvious that right after the site migration process, there usually is a sudden drop in web traffic, but it should recover within a reasonable time-frame.
If not, you need to check for any critical or permanent website change that has triggered the loss of traffic.
07. Missing out on Mobile-first Indexing
A mobile-friendly website is one of the Google ranking factors.
To prevent your car dealer website from a drop in traffic, it is advisable to make your website responsive.
08. Monitor Your Competitors
Another obvious reason for a sudden loss of website traffic may be the increasing popularity of your competitor's website traffic.
Check for resent changes on your competitor websites.
09. SEM Traffic Brings Down SEO Traffic
Paid ads appear at the top of organic searches. If your likely visitors find their solutions right at the top of the SERPs then there is no need for them to scroll down to view organic search results, and this will sometimes result in loss of organic traffic.
For more insights, Contact Us