09 August 2018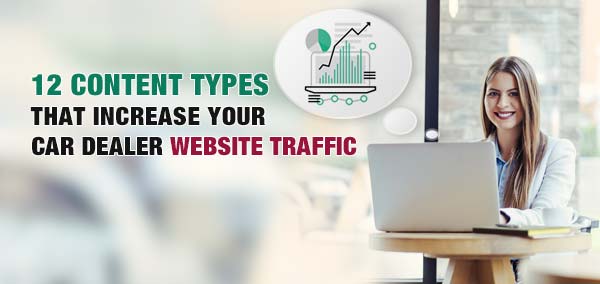 Content marketing attracts new customers and helps retain existing customers as well. The content used in marketing is not just text. There are various content types that can influence your leads and convert them into customers.
Content Type 1 : High-quality Skyscrapers
In spite of readers preferring short content, skyscraper articles are still delivering exponential results by providing engaging, in-depth information about a topic of their interest.
SEO experts love Skyscraper articles, since they provide enough space for keyword optimization that can improve car dealer website traffic.
Content Type 2 : Evergreen & Unique Content
Evergreen content is relevant for years, valuable, and interesting too.
If your car dealership creates evergreen content, then it attracts traffic for years and helps your dealership website rank better.
Content Type 3 : Roundups
There is no doubt that roundup content is challenging to create as expert responses need be collected, compiled, and published.
However, it improves your car dealer website's standing with your audience, since you are quoting authoritative sources and providing a 360 degree view of the topic.
Content Type 4 : Lists
Lists are quite popular with online audiences.
You can create content based on a list of reasons, tips, types, secrets, etc.
Content Type 5 : ebooks
If you have created high-quality content on a single subject, like car care tips and tricks, then compiling the content into ebooks can provide your prospects comprehensive information about issues they are researching.
Naturally, it leads to more car dealer website traffic.
Content Type 6 : Images & Videos
High-quality vehicle images and videos trend online for a long time, and will continue to trend in the future as well.
Prospects who watch visual content like car imagery or car videos on your auto dealer website are twice more likely to visit your dealership.
Content Type 7 : Infographics
Infographics are one of the most popular content types today.
How-to articles in the infographic format is quite popular, since they break down complex issues into simple, step-by-step tasks.
Content Type 8 : Podcasts
Podcasts are advantageous since they allow your prospects to multi-task. They can listen to podcasts while driving or working with something else.
With podcasts, you can reach out to prospects who go on long commutes and is otherwise short of dedicated listening time.
Content Type 9 : Webinars
Webinars not only bring you traffic and leads, but has the potential to lock in the audience, build relationships, and influence them.
Content Type 10 : Book & Product Reviews
Nowadays, virtually no one steps into a dealership without researching online reviews and then discussing the pros and cons with trusted friends, in social conversations.
Reviews are instinctively trusted and valued by most car-buyers. Encourage your happy customers to write as many as they can.
Content Type 11 : Interviews
Interviewing an industry expert or a popular personality who has visited your dealership and seeking solutions to common problems from them is a sure-fire way to increase car dealer website traffic.
Content Type 12 : Trending News
Everyone is eager about trending car news, especially the enthusiasts.
It is also true that news has a wider audience and reach, which provides an opportunity to publish everyday content to a larger audience.
For more information on content types that increase your car dealer website traffic, Contact Us