20 November 2017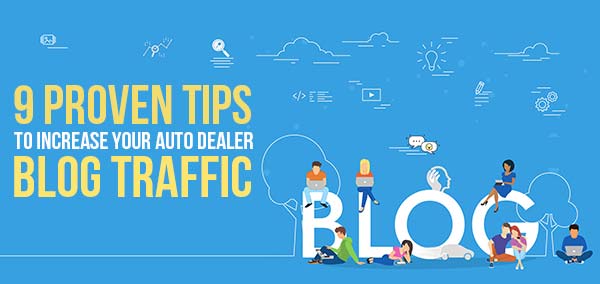 Blogging is one of the proven ways to drive traffic to your auto dealer website. But, how can your blog attract traffic?
Here are some proven tips to increase your auto dealership blog traffic.
Blog Traffic Tip 1: Target the Audience Who are Likely to Share Your Blog
Readers who are active on social media as well are more likely to share your blog. Target such audiences, with easily sharable and compelling blog posts related to new arrivals, vehicle reviews, test drive reports, special offers, and more.
Blog Traffic Tip 2: Search for New Communities
There are various automotive-related communities who are likely to be interested in topics related to your auto dealership blog. You can search for these communities, create an account, involve in the conversations, and introduce your blogs.
This will help your blog gain traffic and followers.
Blog Traffic Tip 3: Do Keyword Research
No matter how frequently you post, your auto dealership blog posts are unlikely to drive significant web traffic unless they are keyword-optimized for search engines.
Use keyword research tools like Google Keyword Planner, SEMRush, etc. for your keyword research. These tools will help you zero in on the most targeted keywords, which will in turn drive web traffic to your blog.
Blog Traffic Tip 4: Optimize Your Blog for Search Engines
Search engine optimization (SEO) friendly blogs drive more web traffic, especially search driven organic traffic. This will not only improve your web traffic but also your website ranking on search engine result pages (SERP).
Invest time in On-page SEO to increase your automotive blog traffic.
Blog Traffic Tip 5: Use Infographics, Images, and Videos
Interesting visual content will easily attract viewers and compel them to share your content. Include Infographics, images, and videos on your blogs.
The visual content can also be uploaded onto image sharing sites, which in turn, will drive traffic to your blog.
Blog Traffic Tip 6: Include Own and Others' Reference Links
Reading static content can become monotonous for your audience. Keep them engaged with internal and external reference links. These links will improve your traffic and ranking on search engines as well.
Blog Traffic Tip 7: Share on Social Media Platforms
One of the best ways to drive blog traffic is to share your content snippets on social media platforms. It is easy to connect with automotive enthusiasts and influencers. Leverage this opportunity to share your content and improve traffic.
Blog Traffic Tip 8: Track Your Analytics
With the help of Google Analytics, check which sites drive quality traffic. Ensure to post and share your blogs on those sites. This will bring down your marketing effort but will deliver better results.
Blog Traffic Tip 9: Guest Blogging Works
There are several advantages to Guest Blogging that will build dealership brand awareness as well as drive huge traffic to your auto dealer blog. First, find relevant sites, request for guest blogging, and create a simple yet compelling blog. Then include a link to your blog post.
For more tips to improve automotive blog traffic, Click Here.