16 November 2017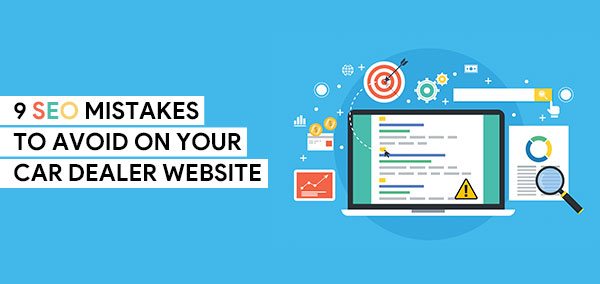 Search engine optimization (SEO) is an ongoing process, which ideally results in the better ranking of your car dealer website. The catch is, SEO techniques that worked in the past weeks and months may not work now and in the future.
To deliver consistent results, dealers have to keep themselves abreast of emerging SEO trends and techniques. They will also have to avoid common SEO mistakes.
Here are some common SEO mistakes to avoid on your car dealer website.
SEO Mistake 1: Not Having an Expert Team
Don't hesitate to outsource your SEO processes to SEO and digital marketing experts. These experts will focus on online marketing and bring up your website ranking. The leads are then delivered to the sales and marketing team at the dealership.
This arrangement allows the dealer sales and marketing team to do what they always do best - converting leads and selling cars, while the SEO and digital marketing partner delivers measurable website ROI.
SEO Mistake 2: Including Too Many Keywords
Earlier, keywords stuffing worked well for improving website ranking. Not anymore. Google now penalizes keyword stuffing, and the consequences for your online marketing can be quite severe.
Now what works well is engaging website content that has the recommended keyword density, with automotive keywords naturally incorporated into it.
SEO Mistake 3: Not Updating the Dealer Website's SEO
As mentioned earlier, SEO is a continuous process and not a one-time activity.
Audit your auto dealer website periodically and keep it keyword-optimized at all times, to match emerging search trends.
SEO Mistake 4: Uninspiring Social Media Pages
Any auto dealer social media page is expected to be hugely attractive and engaging. If you are sharing boring content then you will be losing a lot of traffic.
Remember, along with your auto dealer website, your dealership social media profiles also rank in search engines.
SEO Mistake 5: Forgetting Link Building Activity
One of the important SEO processes is link building activity, which is all about getting healthy backlinks from other authoritative websites.
The number and quality of these links have a positive impact on your website ranking.
SEO Mistake 6: Not Posting Content Elsewhere
It is a necessity to periodically publish content on your auto dealer website. It is equally important to go out there and publish content on other reputed platforms, in order to drive organic traffic to your website.
SEO Mistake 7: Targeting the Wrong Audience
For a successful content marketing campaign, targeting the right audience is an absolute necessity.
In this context, the targeted audience is your local prospects – car buyers within 60 miles or so of your dealership, who needs to either buy a car or service one periodically.
SEO Mistake 8: Practicing Just PPC and not Organic Search
There is no doubt that pay per click (PPC) campaigns drive immediate traffic and improve short-term sales.
On the other hand, organic search ranking can drive search traffic to your car dealer website for specific keywords, without having to pay for every click. You can improve organic traffic through consistent SEO processes.
SEO Mistake 9: Forgetting Regular Performance & Analytical Checks
One of the best practices to improve your website ranking is frequently checking website performance and analytics. You will unearth hidden website issues, which can then be addressed before your auto dealer website ranking takes a huge hit. There are tons of useful tools like Google Analytics, Google PageSpeed Insights, etc. to help you with insightful website analytics.
To know more about the automotive SEO mistakes to be avoided on your car dealer website, Contact Us.