26 October 2017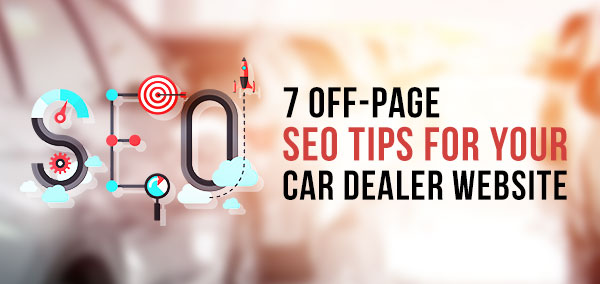 It is a known fact that organic web traffic will drastically increase the marketing efficacy of your car dealer website, and both on-page and off-page SEO play a role in it. From the previous article, you are already aware of the best on-page SEO tips to improve your car dealer website.
Now, let's explore off-page SEO tips.
Off-page search engine optimization (SEO) is a set of activities that are carried out outside of your car dealer website, for better ranking of the website. These offline activities bring website authority and inform Google what others are thinking about your website.
Here are some of the best off-page SEO tips for your car dealer website.
Off-page SEO Tip 1: Don't Forget to Blog
Creating timely, valuable, and engaging blog posts is the best strategy for great off-page SEO of your website. A frequently updated blog will not only bring a lot of targeted traffic, it will also trigger web conversations that frequently result in powerful off-page SEO. It also prods crawlers to regularly visit your domain in order to crawl the new posts.
All these will improve your car dealer website's search engine ranking.
Off-page SEO Tip 2: Build Connections with Influencers via Roundup Posts
Search for weekly roundup posts and build a relationship with industry influencers and bloggers. It helps in promoting your blogs and drive website traffic as well.
For being recognized in these posts, you will have to create the engaging blog posts that compel the other bloggers to engage with it.
Whenever possible, try to add your website link for gaining effective backlinks.
Off-page SEO Tip 3: Try Guest Blogging
Guest blogging allows you to gain valuable backlinks that improve your search engine ranking.
You will have to choose your guest blogging domains carefully – instead of helping you, spammy websites can actually harm your web ranking and your online reputation.
Off-page SEO Tip 4: Be Active on Social Media
There can still be several questions in your audiences' mind that your website can't respond to immediately. The easiest way to reach them is through your social media accounts.
Be active on social media platforms and respond to queries immediately, after thinking through the questons.
Off-page SEO Tip 5: Think Infographics
Whenever you add infographics to your car dealer website, it's likely to attract quality links from other sites. These are also the most-liked and most-shared content on social media sites.
Always add your branding, website URL, and contact info to your infographics. This way, your inforgraphics will retain their marketing usefulness even after they are copied and shared by others.
Off-page SEO Tip 6: Videos Always Work
YouTube, which also happens to be the second largest search engine, brings valuable links to your car dealer website. Create engaging videos of the cars and customer experiences in your dealership and post them on YouTube.
Even if this process takes some time and effort, it will definitely increase your off-page SEO ranking.
Off-page SEO Tip 7: Be a Part of Q&A Sites
Quora and Yahoo Answers are the best Q&A sites that boost your visibility and improve off-page SEO ranking. You can answer questions related to car dealerships, car maintenance, and more. In the answer, you can leave a link to your car dealer website. The link should be added with a call-to action which compels the readers to visit your website for more information.
For more useful off-page SEO tips for your car dealer website, Click Here.