05 September 2017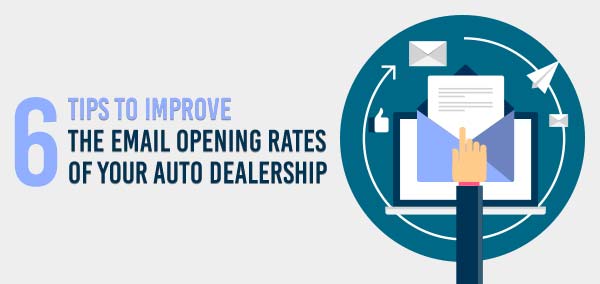 You are already aware that emails are a key strategy for marketing. But what if your emails are never opened in the first place?
In our previous blog, we have discussed email marketing tips for car dealerships. Now, it's time to discuss your email opening rates and how to improve it.
Here are 6 simple yet powerful tips that will help your auto dealership.
01.Send Optimal Number of Emails
Is your car dealership sending out enough email every month? The average email open rate in the auto industry is around 3-5%. So, you need to send enough email every month to double your click through rate (CTR).
Don't bother about the extra effort to get opt-ins, you will be competing with hundreds of other promotional emails and your email volume can make all the difference.
02.Short and To The Point Email Works
In recent times, emails are being opened more on smartphones than on PCs or laptops. So, it's best to send short email with crisp subject lines. Create your promotional email accordingly and check for improved results.
Make your subject line as catchy, short and casual as possible to grab the attention of your viewers.
03.Offer Value, Don't Promote
Sometimes, it's so happens that even though the subject line is marketing-oriented, it does not grab the reader's attention. But, a simple phrase works great.
For instance, "The best of August Specials!" is actually offering value to your readers' interest rather than directly selling what's inside it.
04.Grab Attention with Numbers
Grab Instant attention by using numbers in your email subject lines and on the images. Take a look at these examples:
Iconic Styles for you under 799

Pay only HALF! Save the rest!
In these examples, personalization words (you, your, we), save, up to 70% off, etc., will immediately grab the attention of whoever reads it.
05.Don't Forget the CTA
Follow a certain pattern and flow while creating an email. It should include:
Reason for sending out this email. Write just a single, clear line.

Brief explanation. 2-3 lines or bullet points can be used.

Call-to-action (CTA) button. Highlight it for quick action.
06. Stay Away from Spam Words
"Participate and Earn Prize Money worth $ 100,000!"
How does this sound to you? Of course it sounds fake, unclear, and possibly dangerous as well. Also, pushy marketing words such as free, fast cash, money back, quick profit, etc., will be sent straight to the spam folder by the email filters.
The way you craft your subject line matters a lot. Instead of spam marketing words, create an urgency for taking action. You can use suddenly, now, instantly, promote, increase, etc. to do this.
Simple fact: Better the emails you create, higher your chances of it being opened, and the better your conversion rates will be.
For more tips on improving the opening rate of the emails sent by your auto dealership, Click Here.