15 January 2018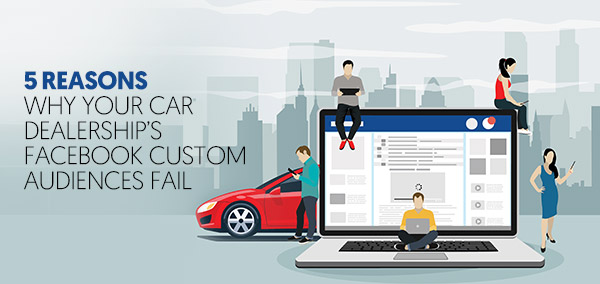 Powerful features like "custom audiences" make Facebook Ads the best social tool to reach a targeted audience. Many dealers try to leverage the custom audiences feature, but find it challenging to get real results.
Here are 5 reasons why.
Reason 1: Custom Audiences' Specificity
The basic new custom audience isn't enough to target the right set of prospects. Don't stop with the most-targeted lists. Take help from Google Analytics to find specific demographics, interests, and intents of the potential audiences.
Reason 2: Overlooking the Custom Audience Sales Funnel
Don't ignore the custom audience funnel, which is similar to the marketing sales funnel - driving traffic, converting traffic into leads, and leads into sales.
A clear understanding of prospect behavior in the funnel will help in customizing your ad content.
Reason 3: Targeting Only Basic Demographic Data
Choosing only basic demographic data is another reason why your custom audience is not delivering. But, it isn't sufficient either. GO beyond basic demographic data like age, gender, and common roles in their business.
Create detailed personas of your prospective buyers by model, and use the information to precisely target your audience, if you are looking to improve your sales.
Reason 4: Not Using Interests & Exclusions
Overlooking interests and exclusions is another reason for the failure of custom audience targeting. From over 33 million, you can narrow down to a few thousands by considering interests and exclusions. The more specific your custom audience is, the better your conversions.
For instance, if you are marketing Honda cars, then you should target not just an audience who has shown interest in this brand, but segmented audiences by each model which you wish to actively promote, and, exclude others from the list.
Failing Custom Audience Reason 5: Short Recency Window
Remarketing is the best way of marketing to your website visitors. If you target a laser-specific custom audience, you will not only get leads but also can expect above average conversions.
Normally, custom audience remarketing fails due to a default 30-day cookie window. It takes the targeted audience much more time than 30-days to move further down the custom audience funnel. Increase the scale from 30-90 days for better results.
You can also carry out A/B testing with the alteration in the cookie window.
For more information on how to make your Facebook Custom Audience work to improve car sales, Contact Us.