02 January 2018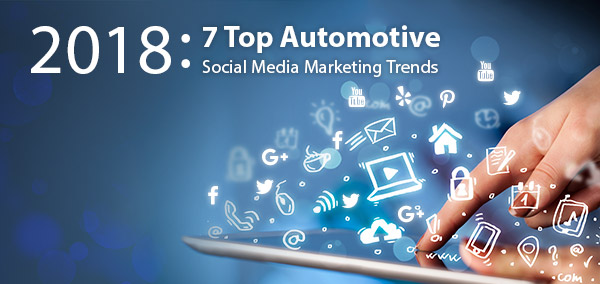 New Year, New Marketing Tactics. Read on.
Social Media Marketing Trend 1: Influencer Marketing
Local social media influencers play an important role in expanding the reach of auto dealerships. They also pass your message to their followers.
One of the advantages of influencer marketing is that it's not too salesy. To begin with, do a little research and find out who are the social media stars within 50 miles of your dealership.
Social Media Marketing Trend 2: User-generated Content
User generated content is a great way to power your social media marketing. For instance, dealers can request selfies of happy customers, with their cars. Every happy service customer can provide a service review.
User generated content is valuable because it connects prospects with happy customers. Never forget to reward every single contribution.
Social Media Marketing Trend 3: Video Content
Videos are the most engaging content, especially on social media platforms. More than 70 percent of prospects who watch a car video is influenced by it.
Plan for some videos to power your dealer marketing. It can be video reviews, new car launches, car walkarounds, car care tips, and more.
Social Media Marketing Trend 4: Live Videos
Live videos are quite engaging, and 3x more effective than canned ones. Plan to go live with events at your dealership. New model arrivals are the #1 priority.
Social Media Marketing Trend 5: Instagram Stories
Instagram stories is gaining immense popularity, and the platform is viewed by more than 200 million people a month.
Plan to add Instagram stories to your marketing toolkit in 2018.
Social Media Marketing Trend 6: AR & VR
We expect Augmented Reality (AR) and Virtual Reality (VR) to gain mainstream status in 2018, and when it does, expect a lot of Social media buzz.
Figure out how you can use AR and VR to take cars to customers. If you manage to do it, then the story is likely to be your biggest marketing masterstroke in 2018.
Social Media Marketing Trend 7: Emotional Analytic Data
Along with the Views, Likes, Shares, and Clicks, emotional factors are greatly influencing automotive sales. Social media platforms should be used more as an emotional platform rather than just another marketing platform.
Your customer relationships, your Net Promoter Score, and the ability of your social media page to influence your customers' sentiments towards your dealership play a vital role in your success. Take a look at how it is all shaping up on social media.
There! From all of us to all of you, have a roaring 2018. For more top social media marketing trends of 2018, Click Here.