10 January 2018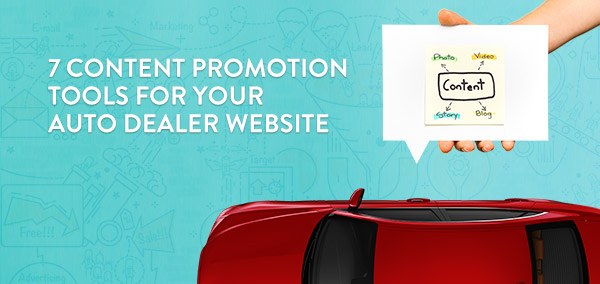 Creating good content alone will not drive traffic to your auto dealer website. Dealers need to promote their content.
Thankfully there are tools that help promote content.
Content Promotion Tool 1: Bitly – Link Management Platform
Bitly is a free tool that shortens your links, as well as track and analyze them on social media. Individual links can be tracked for information on site traffic, audience, and performance.
Shortening the link also helps to manage content limitations on social media platforms.
Content Promotion Tool 2: BuzzSumo – Blog Idea Generation & Content Performance
BuzzSumo is a well-known content tool that helps to keep an eye on your competition. This content promotion tool measures the engagement factor of content topics, based on social shares.
The list of related content for a given keyword will also give you ideas to work on.
Content Promotion Tool 3: Quuu Promote – Traffic & Engagement Tool
With Quuu Promote, you can share website content on important social media platforms, including Google+, Facebook, LinkedIn, and Twitter.
This tool helps with promoting your content without it appearing as an ad or sponsored post.
Content Promotion Tool 4: Buffer – Content Management & Scheduling Tool
Buffer is also a free tool that helps with content promotions.
You can pre-schedule your posts and even simultaneously share on multiple social media platforms using Buffer.
Content Promotion Tool 5: Zapier – Content Automation Tool
Zapier is one of the best Content Promotion tools that help in content automation. You can automate your Facebook Ads, import data to your CRM, and send email campaigns, using Zapier.
Content Promotion Tool 6: Sprout Social - Content Publishing, Social Scheduling & More
This is the Swiss army knife among content promotion tools, offering content scheduling, publishing, analyzing, and engaging. You can also target specific audiences and manage your evergreen content as well, using Sprout Social.
Sprout Social also offers analytics that collects reports from Facebook, Twitter, Instagram, LinkedIn, etc. Reports on specific keywords, topics, hashtags, and more can be created with Sprout Social.
Content Promotion Tool 7: Meet Edgar – Social Media Content Automation Tool
Meet Edgar is a Social Media Content Promotion tool that can be used to automate, share, and re-share your content. It is best known to re-share content that have previously performed well.
Publishing new content to a calendar is easier as well. If you just load the latest content into the calendar, it will post and re-publish it at the right time. Your evergreen content will be automatically re-published.
For more information on Content Promotion Tools that drive traffic to your auto dealer website, Contact Us.