02 August 2017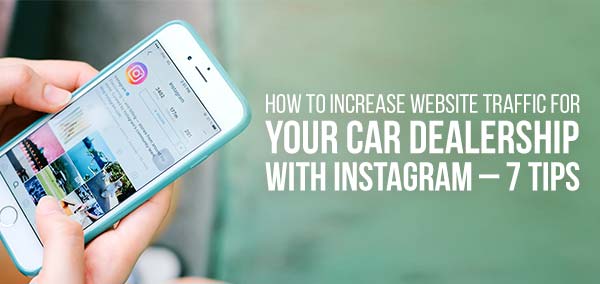 Instagram has over 500 million monthly users and has opened up an opportunity for car dealers to promote their cars/services. Also, the introduction of business accounts has changed the whole idea of Instagram which is way beyond simple likes and follows. Currently, Instagram is one of the best platforms to drive traffic to your auto dealer website.
Using Instagram to improve website traffic is quite simple. Here are 7 tips to follow.
1. Auto Dealer Website Link in Your Instagram Bio
Your Instagram Bio should always contain a link to your auto dealership website. Use your creativity to lure customers to visit your bio for the website link.
2. Selection of Hashtags
Choose and use automotive hashtags wisely by understanding your audience.
Hashtags must not just be popular, they should also motivate your audience to take the next step of visiting your dealership website. You can use various hashtag finder tools that best fit your requirements, including RiteTag, Hashtagify, Keyhole, and more.
3. Use Effective CTAs
Most of the Instagram users love to stay on the platform, so provide engaging call to actions (CTAs). You may ask them to take actions either on the image or caption. For example, 'swipe up' or 'check out the bio' or 'read more' or 'click the link in the bio to avail 20% discounts', etc.
4. Narrate a Story
You can weave a story around a particular car or its driving experience by using various options available on Instagram. You may use:
Multiple images with text overlays

Videos containing website link

A car image with highlights in the caption
5. Make Use of Videos
The best and quickest way to attract customers is through videos. Videos definitely work towards driving traffic and improving sales. Make sure to include one in your Instagram account. Include your car dealership URL in the text overlay, voiceover, or the caption.
6. Instagram Ads Work!
By investing in paid ads, you will notice a huge increase in website traffic and sales. Use creativity in designing your Instagram ads with clickable links. The three types of sponsored ads are carousel, video, and image ads.
With the carousel and video ads, you can explain your story much better than with just an image ad.
7. Track Your Clicks
At every stage of an Instagram post, it's advisable to track your progress. Analyze, decide, and improve on your Instagram posts for better web traffic. You can expect improved results when you start posting on Instagram regularly.
For more suggestions on improving website traffic with Instagram, Contact Us.