09 August 2017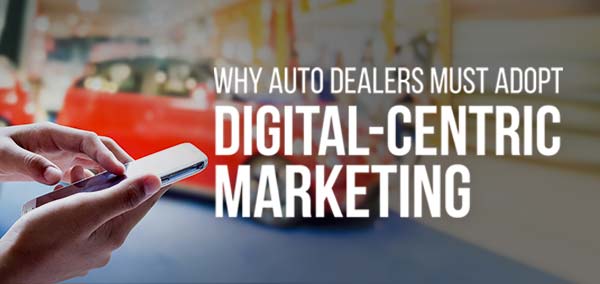 As consumers become more and more digital-centric, auto dealers need to move towards digital-centric marketing. A marketing plan without a digital-centric marketing strategy will no longer deliver acceptable results, especially in the automotive industry.
Mostly, car buyers look to search engines and social interactions to search, analyze, discuss, and decide on their next vehicle. Car dealers who focus on digital-centric marketing are now reaping disproportionate results, while others are invariably falling behind.
When consumers are looking out for an auto dealership online, ensure that your dealership appears to them as the best option – in search results, online reviews, and social interactions.
Read on to know the advantages of adopting digital-centric marketing for your dealership.
Higher Search-ability and Wider Reach
Before going into any auto dealership, consumers search extensively on search engines such as Google and Bing. Your online ranking is the most important initial determining factor when prospects search for a car dealership.
It is necessary to adopt good search engine optimization (SEO) techniques to bring your website to the top of search results. This helps in higher search-ability and wider reach for your auto dealer website.
Unlike traditional marketing or even early digital marketing, digital-centric marketing which integrates mobiles, social media, websites, email, etc., into one inclusive marketing framework is the best way to reach a wider and more targeted audience.
Online Reviews Work
When it comes to actually visiting a dealership, car buyers are hugely influenced by online reviews.
Check your online reviews every day for any negative comments, and respond immediately. If there are fake reviews, have them removed.
Also, encourage your customers to review their dealership experience, and include them in your auto dealer website and social media.
Mobile-friendly Dealer Website Marketing
With 71% of U.S. online time consumed on mobiles, it is essential to have mobile-friendly auto dealer website content as one of your main digital marketing planks. The responsive website feature can be easily adopted for digital marketing.
If your website happens to be mobile-unfriendly, then you are leaving the field open to your competitors, to steal your prospects. Mobiles are not only used for research, but also to finalize and even find driving directions to an auto dealership.
Easy Access to Social Media Marketing
Social media usage is at an all-time high, and car buyers are discussing their choice and purchase on social platforms well before visiting an auto dealership.
Facebook tops the list with respect to auto dealerships. Through social media, auto dealers can connect with new as well as existing customers. You can also use social media to:
Build your brand

Target the right audience

Influence customers' decisions

Sell vehicle service and other products
Email Marketing Works
One early digital marketing option which continues to deliver results is email marketing. Even today, email marketing works well for auto dealerships, provided it is done correctly.
If you are thinking about using customers' data to target similar people better, there are several sophisticated data sources available. It includes people who are willing to buy a new car, who desire a particular make and model, their particular demographics, etc.
Video Marketing for Auto dealerships
Nowadays, video marketing is also delivering success, especially for car dealerships. Almost all social media channels are using this option as well.
Videos grab the attention of viewers and keep them engaged. Auto review videos on YouTube are viewed more than newspapers and TV. For better results, include vehicle features and test drives in your dealership videos.
To know more about the advantages of digital-centric marketing, Click Here.