04 August 2017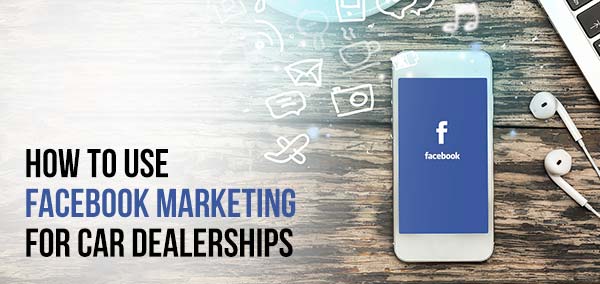 Facebook provides immense opportunities – both organic and paid - to promote sales and service at car dealerships.
On social media, audiences are their real selves, and you can target them better to improve leads and sales. Here are a few good Facebook marketing tips for your car dealership.
Create Content with a Purpose
Creating good and fresh social content is not sufficient. The content should serve a purpose too. The purpose is to create social conversations around your car dealership.
Your FB posts need to connect together like the pearls in a necklace, to orchestrate a compelling social presence that draws prospects to your FB page, and later, your website.
Engage With Your Audience
It's important to nurture your prospects, to build trust and loyalty towards your car dealership. Facebook quizzes are a good way to engage your FB friends and followers, and so are customer reviews, dealership videos, vehicle previews, showroom events, and more.
Responding to FB friends and followers who have shown interest will motivate them to revisit your FB page, and later, car dealership website. Moreover, the likes, shares, and comments help build your community leading to higher leads.
Leverage Facebook Live Video
Facebook Live is an amazing feature that can be used to promote your car dealership. Facebook Live videos are different from conventional video production. The capability of live videos in attracting more prospects is higher than conventional videos.
Facebook Live Videos help you to:
Build trust and higher brand recall

Build discoverability and social visibility

Engage with your audience in real-time
Make Use of Facebook Paid Ads
There are around 14 types of Facebook ads including lead generation, page likes, local business, reach campaigns, etc. Through Facebook ads, you can target a specific audience segment with respect to location, car buying interests, demographics, and more.
With Facebook ads, you have the option to either drive traffic to a separate landing page on your website or make them take action within Facebook itself.
Customize the Ads for Targeted Audience
With the help of dynamic adverts, you can customize ads to promote your cars to people who are specifically interested in it.
Set up the advert along with the makes and models catalogues once and check for improved results.
Dynamic ads can be used for both targeting and retargeting prospects.
Ensure that your ads actually work
The purpose of any advertisement should be clear and effective, and it should fulfill its cause, which is to drive more traffic to your car dealership. To achieve this, your ads should be clear, compelling, and beneficial to your audience. As soon as they read your ad, they should feel compelled to click the call to action (CTA) button.
To know more about Facebook marketing techniques that work for your car dealership, Click Here.