28 July 2017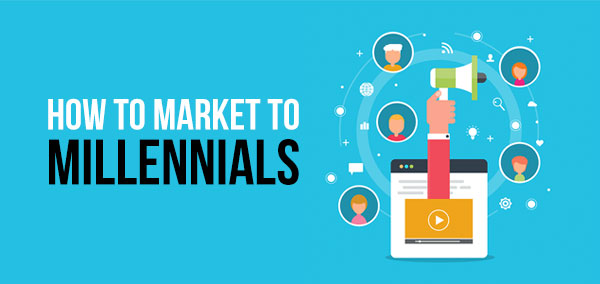 Every now and then, we come across the "next big thing" in marketing, where a little effort brings amazing results. One of the recent marketing priorities demanding a lot of attention are millennials.
For those who came in late, "millennial" is a tag given to people who were born towards the end of the 20th century.
This section of teenagers now form a massively lucrative section of consumers. There are nearly 90 million of them in the United States alone and all put together, they have an estimated combined annual purchasing power that ranges between several hundred billion dollars to a staggering $1 trillion!
Needless to say, marketing your products or services to this segment is a no-brainer.
Here are a few tips on marketing to millennials.
Trust-worthy Content
Anyone who's met a millennial knows that they spend a considerable time on their mobile devices, be it a smartphone or tablet. Millennials plough through heaps of websites, social media portals and blogs for authentic information pertaining to what they want.
A wide section of millennials rate the genuineness and reliability of the content they read above everything else, and they trust the word of their peers. This is precisely what you as a business owner need to provide. Make your content worthy enough for millennials to share, tweet and pin it on their social media profiles.
Customer-Driven Marketing
Adverts that come over radio channels or magazines and newspapers, and even direct mail campaigns unsurprisingly have very little influence over millennials.
Studies have shown that over 80% of this crowd do not care much for this sort of traditional advertising methods.
On the other hand, blog posts and how-to tutorial videos work very well on this front. With this type of marketing, as long as you're not too aggressive or forceful, you can strike the right chord with millennials.
Team Up With the Millennials
Since what you want is to do is target the millennial crowd, why not collaborate with them? A significant number of them are prepared to help firms develop or fine tune their services and products.
Reach out to them and make them feel involved in the process.
Be Mobile Savvy
As we mentioned earlier in this article, millennials do tend to spend large chunks of their time glued to their mobile devices. They use their smartphones extensively to ferret out information regarding everything. Apart from hunting for information, they also use these devices to do tasks such as booking flights or hotels, getting movie tickets, and much more.
Therefore, it is hugely important that you create your business website with the latest mobile-friendly responsive technology built into it, so that it adapts perfectly to scale on all types of displays, regardless of the device used.
Hard Selling Takes a Back Seat
Most millennials were exposed to the world of social media and sharing when they grew up. As a result, trying to buy their loyalties by hard selling your product or service seldom works with them. Instead, ramp up your social media marketing strategies and better still, tie up with celebrities or other popular figures to endorse your business through influencer marketing.
For more information on how best to promote your business to millennials, Click Here.