18 July 2017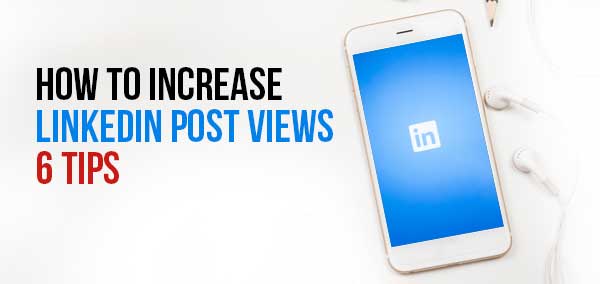 LinkedIn is a powerful, professional network that has a worldwide reach. One of the most valuable features of LinkedIn, Linkedin Posts, helps in building site authority, promoting the brand, and publishing your work.
With more than 150,000 posts published every week, it's important to stand out in the crowd if your Linkedin promotions are to deliver results.
Here are 6 essential tips that increase LinkedIn Post Views.
Tip 1: Write Short, Appropriate, and Engaging Headlines
Don't let LinkedIn truncate your title by making it long. Nowadays, many of the users browse on mobiles and tablets, and while scrolling, what really matters in the newsfeed might be obscured.
Make sure that the headline quantifies the information with:
An emotional approach

The right keyword(s)

A promise to provide useful information

Buzzwords like Why You Have To, or How To
Tip 2: Include Stunning Images
We all know that 'A picture is worth a thousand words.' Why not utilize it better? Add a high-quality cover photo of 698 x 400 pixels to your post. You will add significantly more clicks, just by adding an attractive picture to your post.
Things to avoid while choosing an image:
Company logo

Generic and boring image

Common stock image
Tip 3: Never Forget the Call-to-Action (CTA)
Always make sure that an interesting article concludes with a call-to-action (CTA). The CTA should be crafted in a way that compels the reader to take an action.
Here are a few examples
Download your free copy here!

Schedule an appointment now!

Sign up for the seminar

Learn more!

Get Started Now!
Tip 4: Post LinkedIn Posts Frequently
Publishing educative and engaging content at regular intervals increases your followers and connections. LinkedIn responds well to posts that are published on weekdays during working hours rather than on weekends.
Repurpose the content and share on other social media platforms like Facebook and Twitter, with a link back to the original content. And, don't worry about duplication as Google is smart enough in figuring out the original source.
Tip 5: Share in Groups & Ask for Comments
Relevant LinkedIn groups are sure to promote your published content. Once published, involve in the group discussion and find an opportunity to share your content link. Ensure to post in a maximum of two groups per day to avoid spamming.
For your posts to be listed in LinkedIn Pulse Channels, it's essential to engage with Linkedin users.
Tip 6: Let the Pulse Team Notice Your Posts
Make good use of Twitter by sending a tweet to the LinkedIn Pulse team about your article. You may either –
Ask @LinkedInPulse to feature the article

Provide the article link with a short description and "tip @LinkedInPulse"
If the LinkedIn Pulse team likes the article, then it will be featured in one of the popular channels.
For more tips on increasing LinkedIn Post Views, Click Here.