27 July 2018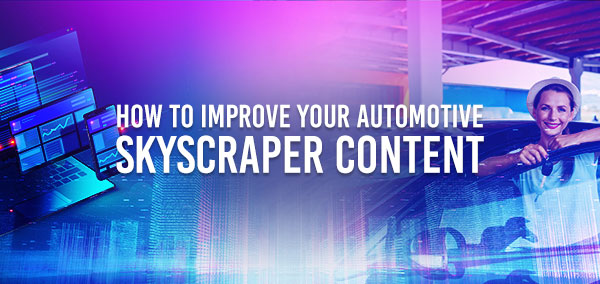 Skyscraper content on auto dealer websites is long and overwhelming, the marketing equivalent of a bunker-buster. But, not all will succeed in bringing in more sales and improved Returns on Investment (ROI).
Your skyscraper content should outrun 1000s of similar content. This is only possible if you make your auto dealer website skyscraper content interesting and readable.
Check out a few tips to improve your skyscraper content for better marketing results.
Tip 1 : Subheadings Positioned Like Headlines
Make sure to create subheadings that grab reader attention, just like your title. It should suggest things to readers and invoke curiosity, rather than giving out the entire set of information.
At the same time, your readers should be able to guess what they can expect in that particular section.
Tip 2 : Make Boring Topics Interesting
Hardly 1 out of 10 articles will be interesting enough to consume entirely, including images and videos. But, for a skyscraper article, it is a challenge to be interesting from the beginning till the end.
Try and add a bit of drama in a tone relevant to your audience. If it works, then you have a runaway success.
Tip 3 : Content should be Customer-focused
Prospects go through your skyscraper content to find the right solutions to their concerns. And, if your car dealership provides them with content that focuses only on your business, they are likely to go elsewhere.
Stay focused on your article and see what your readers gain after finishing it.
Tip 4 : More Information with Fewer Words
There is no doubt that skyscraper content requires high word count but to achieve it, avoid using unnecessary filler paragraphs.
Instead, you can make the article more readable by branching out to related information that your readers would be looking for.
This will fetch you better results and improved leads.
Tip 5 : Short and Simple Sentences in Your Content
Online readers love short and simple sentences which helps them to scan through the content faster. But, once in a while, it's okay to include paragraphs with three to five sentences to slow down the reader's pace. These paragraphs will also give you time to explain issues in detail.
Skyscraper content requires a lot of research and preparation. Be sure to focus on the topic.
For more automotive skyscraper content tips, Contact Us