29 September 2017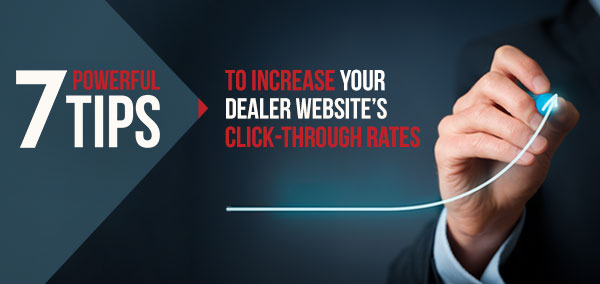 To boost organic traffic to your car dealer website, it is important to optimize search ranking and click-through rates (CTRs). With the increase in CTRs, leads and conversions increase as well.
Here are some powerful tips to increase your Google search CTRs.
Tip 1: Capture with the Headlines
On Google search engine result pages (SERPs), it doesn't really matter if you are in the #1 or #5 position. What counts is your attractive headline, for higher CTR.
The first step to attract web searchers is through compelling headlines. Optimize the headlines on your car dealer website.
Tip 2: Focus on the URL
The URLs that appear in Google are not clickable but provide a brief about your dealership. Make sure to include a short, simple, relevant, and descriptive URL. The targeted keyword in your URL will improve your CTRs.
Tip 3: Make use of Rich Snippets
Rich snippets like star ratings, reviews, etc. always get the attention of prospective car buyers. Along with important information, these snippets provide social proof as well. Google will also crawl through the snippets and if your car dealer website is relevant then your ranking goes up. In turn, it leads to increased visibility and CTR.
Tip 4: Optimize Your Meta Descriptions
Meta descriptions have always been one of the factors affecting the website's search engine ranking. It is important to focus on optimizing the Meta descriptions as it directly affects the CTR. As your website moves up Google SERPs, Meta descriptions yield you more CTRs.
Tip 5: Quality Visuals Go a Long Way
Be it on your car dealer website or social media, visuals are the best thing that a reader can quickly understand and respond to. Visuals improve the quality score and engaging factor of your auto dealer website, and your CTRs will improve too. Choosing the right images to go with your content is important, and every image needs to be optimized for search, using targeted keywords in the image title, alt text, and caption. This will also help improve your website CTRs.
Tip 6: Create Impressive Landing Pages
Once you start driving traffic to your car dealer website, it is important to take the visitors through the sales funnel. Create impressive, high-converting landing pages. Your landing pages must be unique, action-oriented, and it should encourage higher CTRs.
Tip 7: Google Analytics Helps
Make use of Google Analytics to improve organic search performance, landing page conversions, email campaigns, etc. If all these factors are improved then your CTR will also improve.
Things to do:
Analyze bounce rate

Set conversion goal

Focus on the right audience

Improve your website's usability
For more powerful tips to increase your car dealership's search CTR, Contact Us.