06 October 2017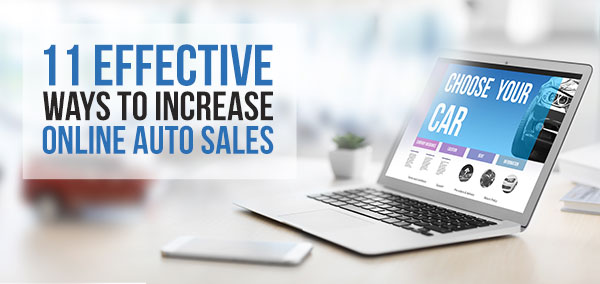 Up to 94% of prospective car buyers now connect with dealerships through their car dealer websites, mostly on their mobiles. Now, the primary goal of marketing departments in dealerships should be to drive footfalls using online channels, including their car dealer website.
Here are 11 effective ways to achieve it.
01. Own a Responsive Car Dealer Website
If you do not have a responsive car dealer website yet, drop everything else and make it your first priority. A quick look at your Google analytics numbers will show you that an overwhelming majority of your online visitors access your website on their mobiles.
If your website is not responsive, mobile users are unlikely to have a smooth browsing experience, leading to high bounce rates.
02. Include High-quality Images
High-quality and compelling images never fail to grab attention, especially when researching cars. Vehicle specifications and pricing highlights come next.
Make your information easy to grasp, and always highlight key advantages.
03. Customer Reviews and Awards Work
Impress your new customers by posting positive customer reviews. Always highlight awards. This will increase the trust factor when new prospects visit your car dealer website.
04. Start Blogging
Blogging is one of the content marketing strategies that drive more car sales. Blogging can increase traffic, build trust, and improve conversion rates.
While highlighting new models and specials, don't forget to provide solutions to your customers' queries and concerns.
05. Publish Press Releases
In order to attract local media attention, publish informative press releases that are news-worthy. Make your press-releases professional and concise.
Always choose authoritative press release websites to publish your press releases.
06. Try Influencer Marketing
Interview a few local influencers and publish them on your website, preferably in the video format. Ask questions related to cars. This is always a win-win proposition, since the influencer will get more exposure and your dealership will get authoritative content.
07. Target Car-buyers Through Personas
Instead of studying each of your customers' interests, you can create personas and target them online. Create ads and content related to these personas to drive more leads and footfalls.
08. Create Email List and Kick Start your Email Campaigns
Email marketing is still effective, and it brings around 110 percent returns on investment (ROI). Prepare an email list and immediately restart email campaigns. In the email, don't forget to include an email-only offer, attractive discounts, free newsletter for download, link to your blog, etc.
09. Social Media Marketing Works
Leverage social media not only for socializing but also for marketing. Probably your entire local community is available through social media. Engage with them, build great conversations, and increase car sales.
You can also conduct contests or request feedback, which is a creative way of advertising.
10. Offer Giveaways or Rebates
Everyone loves free gifts and rebates! These will help drive more footfalls, apart from attracting more valuable inbound links. Various services like Gleam allow running online giveaways, which keep the process professional and simple.
11. Go for Google Adwords
The Google Adwords paid advertising platform is ideal for short-term results. Adwords campaigns can drive huge traffic and conversions. The campaign can be set up within minutes and you can include optimized text, image, or a video.
For more tips to increase online car sales, Contact Us.