09 February 2018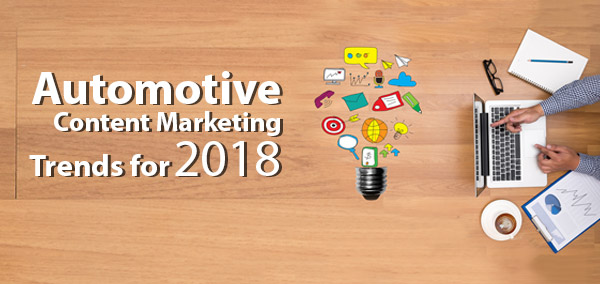 In content marketing, what worked last year may not work in 2018. Here are some content marketing trends for the New Year.
Content Marketing Trend 1: Update Yourself on Content Creation
Having a bunch of writers alone isn't enough to drive an effective content marketing initiative. You have to continuously improve and shape your content, to resonate better with audience search trends.
For 2018, your writers should have skills related to video scripting, content customization for various platforms, content distribution and promotion, analytics, and more.
Content Marketing Trend 2: Going Beyond the Screen
Content just for screens like PCs, laptops, tablets, and mobiles is insufficient. Other smart apps like Siri and Alexa are attracting people who don't want to stick to the screens.
Research shows that listeners are less likely to remember audio messages, compared to AV messaging, which means that writers need to craft more memorable audio messages, if they are to see results.
Customize your content to make use of these voice platforms, to target voice searches.
Content Marketing Trend 3: Be Transparent
The biggest advantage of content marketing is that it allows to differentiate your business from the competition, right from the opening line. And the key to this differentiation is transparency. Being transparent is the latest and greatest marketing tactic, being employed across verticals and around the globe.
But how do you tap into transparency in real-life?
Simple. Tell an honest and engaging story that frames your business in good light.
Remember, done right, prospects may care so much about these stories that they will buy your product or service just to be a part of it.
Content Marketing Trend 4: Content is the Key for Marketing
Content is marketing. You can't find too many marketing ploys that can stand alone and work without good content.
It is a fact that both organic and paid marketing requires content to drive conversions. That's why it pays to put content center-stage.
Content Marketing Trend 5: Need for Content Strategy Documentation
Tracking your content strategy and documenting it will have a positive effect on achieving your marketing goals.
To begin with, you will have a clear grip on marketing, if you have a "what works when" timeline handy.
Content Marketing Trend 6: Live Video Content is Booming
Both auto retailers and prospective customers are moving towards live videos. Facebook live now has around 130% more organic reach than just images.
Video engagement and the quality of comments go up with engaging live video content.
Content Marketing Trend 7: Virtual Reality is on a Rise
One of the most engaging content formats other than live videos is virtual reality (VR).
VR goes beyond keeping the audience engaged, and makes them an active participant in the experience.
You can expect significant movement towards VR in 2018, and as usual, the early adopters are the ones who stand to gain the most.
For more content marketing trends for 2018, Click Here.