18 December 2017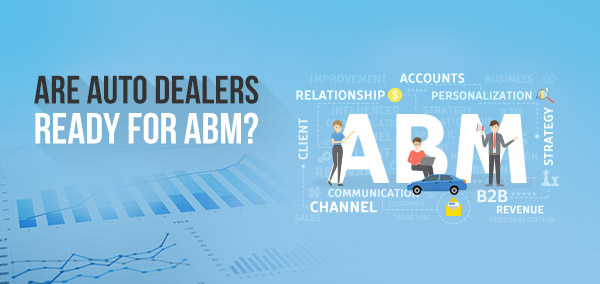 First things first, Account Based Marketing (ABM) is generally known as a B2B marketing methodology. However, what makes it a highly attractive proposition for auto dealers is the one-to-one marketing concept that drives ABM, instead of the traditional one-to-many marketing focus of most digital and online marketing.
ABM makes sense to dealers because of two factors. One, a car is a big ticket sale. Two, typical buyers will buy up to 13 cars in their lifetime, and has the potential to influence many more.
For auto dealers, ABM would have been impossible to pull off even a couple of years ago, but not anymore. With big data analytics and marketing automation, it is quite possible for a lean dealer marketing team to pull off successful ABM, with help from marketing partners like FrogData and izmocars.
ABM and the 80/20 Rule
Depending on your auto brand and market position, every car buyer in your client list is unlikely to qualify for ABM. That's where the 80/20 rule of marketing comes into play.
Who are the 20% of your customers who bring in 80% of your revenue and profits? The ones who buy often and refer others oftener? They certainly qualify as your key account, a market of one who deserves to be in your President's Club.
Ask Questions
Look at your customers who have successfully referred two or more others to you recently. What drives them to do that? Finding meaningful answers to this question is key to keeping your high-value influencers within the fold.
Influencers push the right buttons and send you more business for unique and different reasons. Some would like you to treat them like royalty. Some do it for bonuses. Some would like you to be there at their next charity event.
The first thing to do is to find out what drives each one of them.
Designing your ABM campaigns
Once you know who exactly are your key accounts and what drives them, the next step is to figure out how best you can fulfill your part of the game and keep them enthusiastically sending more business your way.
Always remember to touch base with key accounts at least twice a month and build one-on-one relationships. If someone drops out of your marketing radar in between, act quickly to find out why.
To really work, an ABM campaign must not resemble a one-to-many marketing campaign. ABM is unique, personal, and valuable, for the dealer, and the special customer.
Personalized email with your signature. Facebook comments on their walls with surprise offers that not only delights them, but takes their stature a couple of notches up with their friends. Social mentions. Occasional telephonic calls. Special invitations to launch events. The works.
Ready to try ABM? For more information, contact us.