22 December 2017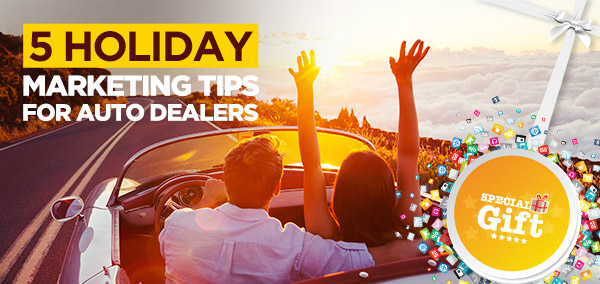 Hello, this is izmocars, wishing you and yours' Happy Holidays in advance. Here are 5 holiday marketing tips for you, to make the season brighter and merrier.
1.Tap into the "Buying Mode" with a special offer
It is a known fact that most shoppers are in the buying mode, between Thanksgiving and the New Year. OEMs often offer their best deals around this time of the year, and dealers try to do what they can to stand out in the local market and sell as much as they can when customers walk in. At the Shopper's end too, the propensity to buy is the highest at this time of the year.
The first thing to do is to tap into the buying mode. Open your leads list and contact every unsold lead in the last 90 days with a special "Festive Season Only" special offer. Door-step test drives, Special financing with OEM support – think of what you can do and act on it fast.
2.Website Contests!
With prospective customers visiting your auto dealer website first before ever stepping into your showroom, the place to catch customer attention is the website.
From now on until the end of season, plan a fabulous holiday theme for your website, and publish daily contests with special offers. Pump up the excitement with colorful graphics.
3.Greeting Cards with Dealership Cash
Send every sales and service customer a colorful greetings card, with a "dealership cash" coupon attached, which they can exchange for any dealer service inside 30 days. Don't forget to mention the three best deals they can expect, if they choose to walk in or recommend someone.
4.Go Social
Bring in the holiday flavor onto social media. Run a Christmas themed "selfie with car" story-telling contest on Facebook, with attractive daily and grand gala prizes.
Of course, all the online and offline promos need to go on your social platforms, too.
5.Go on Overdirve with PPC and Social Ads
Target local shoppers more than ever before with contextual ads. Holidays are the time when shoppers shop for cars the most, and your PPC and social advertising with put you in front of then every time they search for cars online or go on social media. Remember to keep the messaging holiday centric.
There! Here is all of us at izmo wishing you happy selling, and Happy Holidays too!
For more holiday promotional tips, click here.