04 July 2018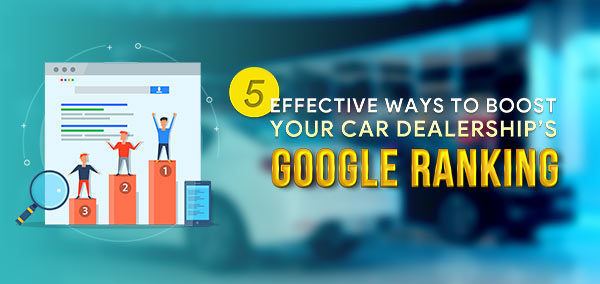 There are no shortcuts to improving your car dealer website's Google ranking. The only way is to deploy, test, and improve search engine optimization techniques.
Check out some of the powerful ways to improve your Google ranking.
01. Continuous Updates are Important
Frequent updates to your car dealer website can help you improve your Google ranking.
There is no need to wait until Google bots recognize your update and crawl them.Try to come up with a daily website update process, and stick to it.
02. Car Dealer Website Speed is Important
No one wants to wait for a long time for your auto dealer website to load. Slow website speeds will not only impact your Google ranking, but also affects user experience. Try to reduce your website loading time to less than 3 seconds.
Here's more information on the impact of website speed on Google ranking.
03. Optimize Your Website for Mobile
Ever since Google deployed the mobile-first index as one of the ranking factors, there is no escaping being mobile-friendly.
It is important to focus on the ease with which your auto dealer website users can perform tasks on their mobiles, since more than 80% of your website visitors are likely to be using mobiles.
04. Focus on the Links
Website links, both external and internal, play an important role in boosting your auto dealer website ranking. Pay attention to broken links and fix them, use anchor text for external links, and perform other backlinking activities.
If you haven't started link building, then it's a good idea to start immediately, as it can take a few weeks for Google to evaluate your link-juice.
05. Optimize Your On-page SEO
On-page search engine optimization(SEO) techniques can't be ignored if you want to improve your website's Google ranking. Follow these basic on-page SEO techniques-
Use schema markups to let Google know what your website is about

Have clear, simple, and unique titles

Clickable Meta descriptions help
For more effective ways to boost your car dealer website's Google ranking and to understand how izmocars can help you, Contact Us