06 April 2018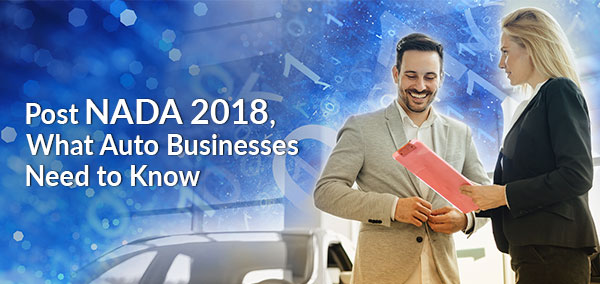 One of the largest events for automotive dealers, NADA 2018, just wrapped up, and a lot of insights were revealed on where automotive businesses are headed to.
NADA 2018: Finally Big Data is Here
As expected, one of the hottest trending topics at NADA 2018 was big data. Everybody knows that big data is here to stay and its presence will only get bigger. However, there still is a lot of hesitation and anxiety among auto business owners about implementing big data solutions to power their sales and enhance efficiencies across their dealerships.
Among other things, big data offers auto dealers and other businesses a way to accurately track prospects and get an understanding of whether they are ready to convert. In addition to this, big data provides dealers with an idea of where the dealerships are losing money and efficiency.
Using such information, big data tools can give an accurate picture of who the next customer of an auto business might be, and business owners can then take the required steps to ensure that these prospects come to them instead of moving over to the competition.
With access to business insights driven by data such as which price points of automobiles potential buyers are particularly interested in when they look through online inventory, how much online traffic was drawn to a particular product, how quickly a product got sold and so on, a car dealer can very specifically understand what car shoppers are looking for and act on it.
Once they have this information in hand, they can tailor their inventory, offers, promotions and so on to sell more vehicles. This technology is called predictive analytics and it is a vital part of big data.
Big data can often give dealers the insights and information they require to close a deal at a higher price-point, successfully. Competitive pressures often cut into the average profits auto businesses can make on a deal. Big Data Analyitics can advise dealers when not to cut their profits too much.
Also, the efficiency of your company's marketing budget, investment in sales and distribution, inventory management, and so on can be fine-tuned significantly to save tens of thousands of dollars. This is another area where big data's capabilities can be outstanding.
Big data analytics platforms such as Frogdata analyse every bit of data available in the dealership to help you increase margins, improve efficiencies, and lower your exposure to financial risks. The findings that need your attention are presented to you in an easy to understand manner to help you take timely and informed action.
For more information on emerging dealer trends including big data, Contact Us.