14 May 2018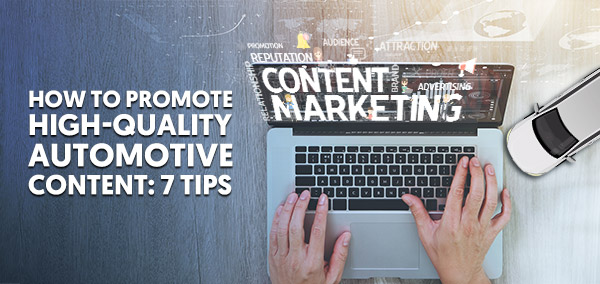 Publishing high-quality content alone isn't sufficient to create better online visibility for your car dealership. Other factors like quality links, user intent, content relevance, and many more play important roles as well.
Here are 7 content tips to push your car dealer website on top of the Google's search engine result pages (SERPs).
Content Tip 1: Know Your Competition
Before entering into the content marketing game, it's important to know whom you are competing with. If you are focusing on the keywords deployed by bigger, well-established brands, then the challenge is huge.
There are ways to tackle it. For instance, you can create in-depth content that gives the entire information about a given topic in a single article. This is called the skyscraper technique and it works well.
Content Tip 2: Appropriate, User-targeted Content is Important
User-targeted content that can drive organic search traffic to your car dealership is important. High-quality content that provides solutions to the users' questions will help to bring up your auto dealer website in Google rankings.
Remember, to get there your content needs to be valuable and relevant to the audience.
Content Tip 3: SEO-friendly Tactics are Preferred
Your high-quality content should be aligned with a search engine optimized car dealer website.
Both off-page and on-page SEO optimization are crucial for better ranking.
Content Tip 4: Authoritative Backlinks are Effective
The quantity and quality of backlinks count, when it comes to improving your Google ranking. Focus on organic link building strategies that bring links from relevant sites.
Content Tip 5: Make Your Content Sharable
Content promotion strategies like social media interventions, influencer marketing, online reviews, and paid ads help with increased Google ranking.
It is important to make your content shareable.
Content Tip 6: Content Branding Attracts Readers
Brands attract followers, and this holds good with content too. If you provide stellar articles in a predictable way, then readers will come back for your next article.
Initially, local dealer level brand promotions can help you in introducing and promoting high-quality content to your local community
Content Tip 7: Check Your SERP Snippet
Once your high-quality content is published, check your SERP snippet. If you feel that it's not compelling enough to make your prospects click on it, then improve your content to increase your click-through rates (CTRs).
Even a small increase in the CTR percentage improves your Google ranking.
For more tips on promoting your high-quality content, Contact Us