20 April 2018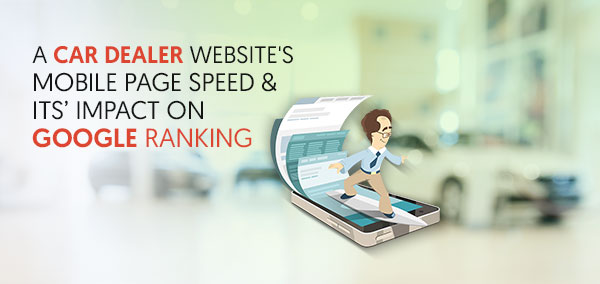 Car Dealer Websites: The Importance of Mobile Page Speed
Here's why car dealer websites need to be assessed for mobile loading time. Page speed for mobile searches is now one of the important Google ranking factors.
This was bound to happen ever since the time marketers started talking aboutmobile-first. Page speed is also an important factor for providing the best user experience.
If your auto dealer website's page loading time on mobiles take longer, then you are likely to experience higher bounce rates, which leads to lower conversion rates.
Both your bounce rate and conversion rate seriously influence your website's search ranking.
Other Necessary Things Along with Page Speed
Other than page speed, make sure to provide your audience valuable content and an intuitive user experience. Doing so can take your online marketing to an all-new level, and it improves your website ranking, and in turn, your car sales.
Things to do for Improving Your Google Ranking
Here are some things to do, to show up on top of Google searches.
01. Increase Your Website Page Speed
It is important to make your website super fast so that it loads within one to two seconds. Visitors are unlikely to wait for more than two seconds when looking for solutions to their concerns.
It's important for you to stay ahead of your competition with respect to page speed.
02. Try Accelerated Mobile Pages (AMP)
AMP may soon be one of the Google ranking factors as the page loading speed would be extremely fast.
This increases your conversion rate and improves your search engine ranking as well.
03. Content Experience Matters
Make sure that the high-quality content that your car dealership is creating is mobile-friendly as well.
The content you create must fulfill the expectations of your targeted audience at all the stages of the buyer's journey.
04. A Strong Call to Action (CTA) is Necessary
A Call to action (CTA) is what your audience must see as soon as they enter your website/landing pages. If the CTAs are placed in a way that it can be quickly found, then it increases click rates.
This leads to improved conversions and Google ranking.
05. Test Your Car Dealership Website's Mobile-friendliness
Make sure to that all your car dealership website pages are mobile-friendly. You can use tools like Gtmetrix and PageSpeed Insights to track your mobile page speed.
For more information on mobile page speed and its impact on Google ranking, Contact Us