04 May 2018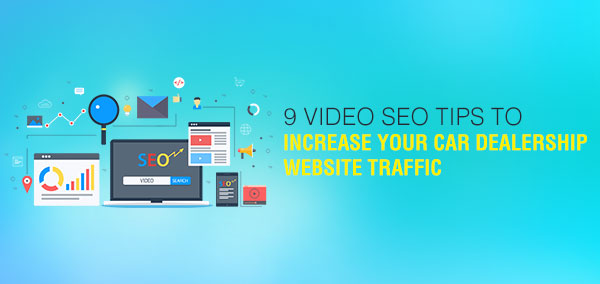 Video is a powerful marketing asset for your car dealership website. We see this trend gaining more traction by the passing day, on its way to metamorphosing into a deal maker in the near future.
Here are 9 video search engine optimization (SEO) tips to optimize your video content and improve your car dealership website traffic.
Video SEO Tip 1: Look for the Right Video Topic
Choose the best articles from your car dealer website that have gained significant traffic and convert these into videos.
You can also monitor your competitors, shortlist topics, and create better video content.
Video SEO Tip 2: Video Optimization Matters
It is advisable to include keywords in the title, filename, and description of your videos.
This doesn't significantly affect video search ranking, but keywords help your audience in understanding the videos better.
Video SEO Tip 3: Add Value to Your Audience
Your videos can drive traffic only if it adds value to your visitors.
Make sure to add relevant high-quality video content that can improve website traffic and video SEO, builds trust, and engages with your audience.
Video SEO Tip 4: Thumbnails are Important
The first thing a visitor notices about your video content is the thumbnail of the video. It should compel the visitor to click on the video.
It is essential to pick a thumbnail which is clear and relevant to your video.
Video SEO Tip 5: Host Videos on Your Website
One of the best things to do to increase your website traffic is to host videos on your own car dealer website.
It is also important to create a new page for each video, since this makes indexing easier.
Video SEO Tip 6: Add a Video Sitemap
A video sitemap is often an overlooked component of video SEO.
This sitemap draws a perfect picture of the necessary data required for search engines to analyze your website videos.
Video SEO Tip 7: Shareable Videos are Preferred
For your video content to drive website traffic, it's necessary to make them shareable. It should be fun, interactive, creative, and valuable to your target audience.
Video SEO Tip 8: Increase Car Dealership Traffic with Video Promotions
After you create a video, it is important to promote it.
You can promote your website videos through social media, email, and paid marketing. This will increase your website traffic and search ranking as well.
Video SEO Tip 9: Allow to Embed Your Videos
If someone wants to embed your videos on their blog or website, let them. By allowing the embedding your videos, you will earn more inbound links that improve your SEO ranking.
For more video SEO tips to increase your car dealer website traffic, Contact Us