13 January 2021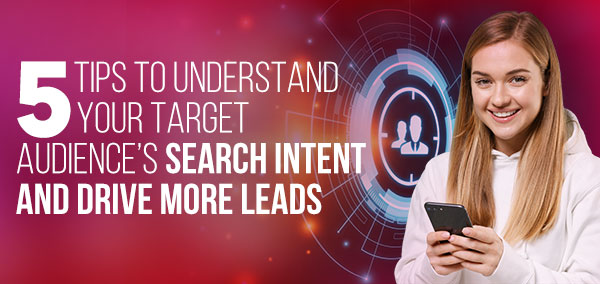 Search intent is a critical part of marketing. Learning what your target audiences are looking for online and using the knowledge to drive marketing can deliver huge competitive advantage.

Let's take a look at different search types.

Informational: Users are looking for information about their topic of interest. It is a popular search intent, early on in the sales cycle.

Navigational: Navigational search intent is where users look for a specific location. Here, users know what they want but need to know where to find it.

Transactional: Users are looking to buy a product online. They are ready to convert, but have to be led to the right landing page.

Investigational: Investigational search intent is about researching a product or service in order to purchase in future.
Clear insights about these search types can help plan an effective online marketing strategy. Here is where you can get these insights.

1. Search Analytics

Google Analytics can help you understand what your target audiences are looking for. You will be able to decide what kind of content vibes with your audience, driving more engagement.

2. AdWords Search Intent Report

AdWords search intent reports can help identify the searches that trigger ads online. The report can also provide insights into long-tail keyword strings popular with your audiences.

3. Content Performance Analytics

Analyze your content performance. Learn what is working for your auto dealership and what's not.
Once this is done, then you can work on improvising your content pipeline.

4. Content Optimization

Firstly, choose what can be easily tweaked and focus on optimizing these content pieces. Your content ranking in the second page of Google search results are prime candidates.

5. Competitive Benchmarking

Even after putting in considerable efforts, if your content is still not visible on Google's first page, then take a look at your competitors and try to learn what they are doing differently, especially in the areas of keyword optimization and back linking.

For more search intent tips, Contact Us!